Be ready for whatever the day throws your way in this pant!
luon® fabric has a cotton-feel & 4-way stretch to move with you
Straight leg cut, so you can move with ease
Wide, smooth waistband won't dig in
Hidden waistband pocket for your cash and key
Straight Up Pant II
25
25
Love them!!!!!!
These pants are great!! I love how stretchy and comfy they are. They are a bit expensive, but totally worth it!!!! I will DEFINETLY be ordering another pair next winter:) great job ivivva !
April 24, 2013
best pants!!!!! <3
these are amazing pants the are very comfy, and great everyday pants! the only thing is im like 5:0 and i have size 10. the waist is fine but just the lenght is my problem
April 17, 2013
totally awesome pants!
I just love yoga pants, and these totally raised the bar! the fabric is super comfy and soft. The fit is also really nice. They're super stretchy, which I love, because I'm always stretching! :) they are fairly expensive, but other than that these pants are perfect. Awesome job ivivva! :)
March 12, 2013
wonderful and perfect pants
Ok, so i got these pants for Christmas and wear them from time to time. I just really hate my sneakers that go with these pants they just make me too tall!!
March 1, 2013
just wonderful
my daughter recieved these for christmas and almost wears them too many times for me to wash!!! they really are a nice fit that look perfect. the only minus would be its very tight around the bumm! but other than that this would maybe be my absolute favorite product from ivviva!
February 23, 2013
Amazing everyday pants!
I bought these pants just because I needed some new yoga pants! I adore the astro pant from Lulu but, I'm still growing so it is hard to buy $98 pants! These are much less expensive and the 12 fit perfectly! I went a size up just in case! I am 5'3.5" and 103lbs! These are awesome pants and totally worth the money! I love how they are reversable! the only bad part is that they attract mud, lint, strings, ect. But, these are still the best pants i have bought!
February 22, 2013
Great Yoga Pants!
These pants are super stretchy and perfect for any activity. I got these in August, in a slightly older version but the same style. One thing I found is that i needed to get the hemmed, because they were long and I kept tripping over them. Overall, great pants!!
February 9, 2013
i love my pants
I love my pants i got mine in september they have lasted a long time. I wear them any time i can. Just wash them on gentle or thell atract dirt:)
January 15, 2013
questions
Just wondering... are these pants quick drying? Looking for something that drys quickly for travel and sports. Also, the dance to the beat pant url is gone as they are sold out. I have a pair, and I was wondering, are they reversible? There is an Ivivva logo on both sides, however the label and website (when the url link still existed) didn't say it was.
January 13, 2013
Amazing Fabric
The luon fabric is AMAZING. But size 12 is a perfect fit, but way too long. I would have bought the size 10, but it was too tight. But the length was perfect. But i still would totally recommend this to a friend. I also love how there aren't any tags that dig into your waist.
January 1, 2013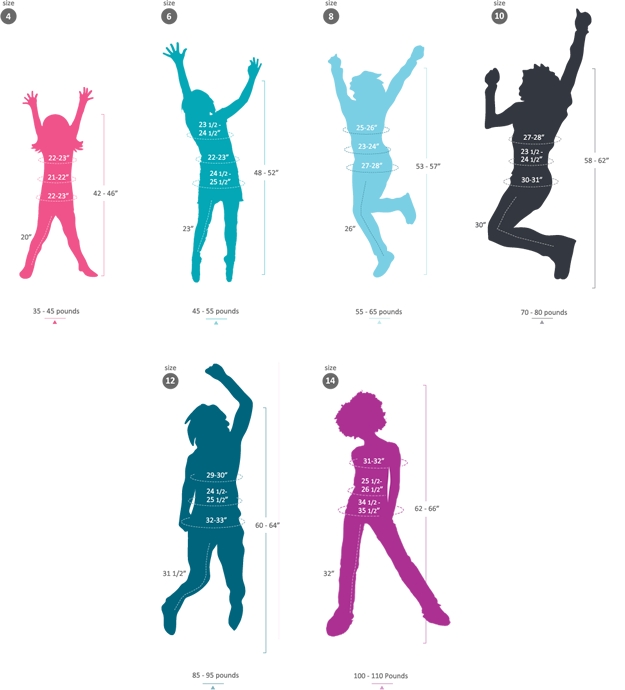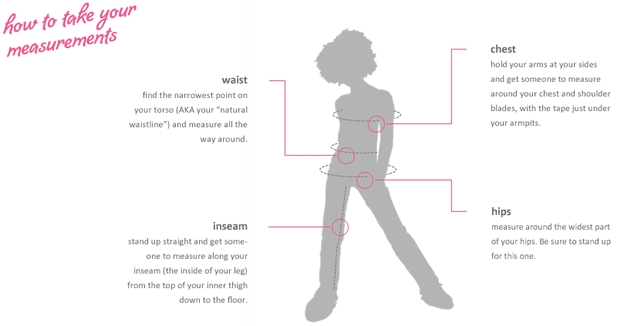 Most ivivva clothes are pre-shrunk to ensure a quality first time fit. Please don't buy a size that's too big assuming it will shrink to fit, because it won't, and baggy clothes are so over.
Depending on your height, pants may need to be hemmed. Be sure to wear the shoes you'd normally wear when getting your pants hemmed. Hem the pants at least to the bottom of the heel. A lot of girls actually prefer their pants to be hemmed a bit longer for a more comfortable relaxed style.
Make sure your pants, leotards or tights are snug, but not too tight. ivivva clothes should fit you like a comfortable second skin. If they are too big for you, they can slip or hang loose, especially when you're dancing, flipping, running, jumping, skating or doing your thing.